What to Expect from your First Session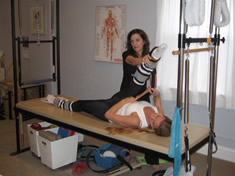 During the initial meeting a physical assessment will be made. Based on that assessment a specific training program will be designed to meet a client's personal needs and goals.
Once the program has been created, the sessions usually follow a basic pattern. A session generally begins with mat work and passive as well as active stretching. In passive stretching, the instructor moves and presses the client's body to stretch and elongate the muscles.
During the active stretching period, the client performs the stretches while the instructor watches their form and breathing. These exercises warm up the muscles in preparation for the machine work.
The machines help the client to maintain the correct positioning required for each exercise and create resistance to challenge their muscles and build incredible strength.
The session ends with light stretching and a cool-down period.
About Freedom Road Pilates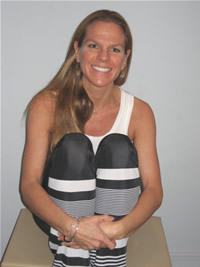 Anne Haight, the founder and director of Freedom Road Pilates, is a professional dancer and gymnast who trained at Alvin Ailey in New York City and has performed with numerous dance companies.
Anne is also an award winning choreographer and personal trainer and is fully certified in Mat, Reformer, Cadillac, Chair, Barrels and Anatomy, Bio-Mechanics and Postural Analysis. Anne also holds the highly esteemed Stott Pilates certificate.
Anne is also an instructor trainer on all equipment for the Pilates Academy International at Pilates on Fifth. She also has completed the Functional Anatomy training program at Mount Sinai School of medicine and has taught at Brown and Harvard, as well as abroad at the University of Copenhagen, the Florence Dance Festival and the International Academy in Cologne, Germany.
Anne and her highly trained instructors at Freedom Road follow the same standard of excellence as Anne does and utilize the Reformer, Cadillac and Stability Chair, which were pioneered by Joseph Pilates.
About the Pilates Method
The goal of Pilates is to establish a stable central core around which all movement takes place. There are more than 500 exercises that were developed by Joseph Pilates. These include concentration, centering, flowing movement and breath.
During exercise, many of the deeper muscles work simultaneously, improving coordination and achieving efficient, graceful movement. Each exercise has a prescribed placement, rhythm, and breathing pattern. Breathing assists in directing energy to vital areas while relaxing the rest of the body. A basic principle of Pilates is that people think of their bodies as whole integrated units.
There are two primary exercise machines used for Pilates, the Universal Reformer and the Cadillac. The Reformer resembles a single bed frame and is equipped with a carriage that slides back and forth and adjustable springs that are used to regulate tension and resistance. Cables, bars, straps, and pulleys allow the exercises to be done from a variety of positions.
Instructors usually work with their clients on the machines for approximately one hour. During this time, they are observing and giving feedback about alignment, breathing, and precision of movement. The exercises are done slowly and carefully so that the movements are smooth and flowing. This requires focused concentration and muscle control. The session ends with light stretching and a cool-down period.
---